Let's be honest – heat protection is an absolute must when you reach for a hairdryer and a straightener every day. Only when used regularly, the heat protectants are able to shield your beautiful tresses against the destructive effect of the high temperatures. But how to find the right product? How will you know whether a protectant you're looking at is good enough for your hair? To help you make the right choice, we've prepared a short round-up of the best hair protection products for hair. In a moment, all these doubts will be cleared up.
It's worth realizing that styling hair with popular heat tools without providing it with adequate protection equals a disaster. High temperatures cause irreversible damage to the hair fibers, changing their shape and structure. The good news, however, is that avoiding these negative consequences of heat styling is pretty simple. The very first step that needs to be taken is isolating the hair from the hotness with a heat protectant. It would be even better if the product of your choice was formulated with nutrients and some moisturizing agents in order to give you more than just diverting the heat from the strands. Another positive feature to look for in such a haircare product is the possibility to apply it to both dry and wet hair – this quality is a very useful one, especially when you don't have much time to wash the hair before every styling process.
What's the best heat protectant that you can apply to your hair? See the below round-up and choose the cosmetic that will keep your tresses healthy and shiny while you straighten or blow dry them.
HEAT PROTECTION PRODUCTS FOR HAIR RANKING
1. Nanoil Heat Protectant Spray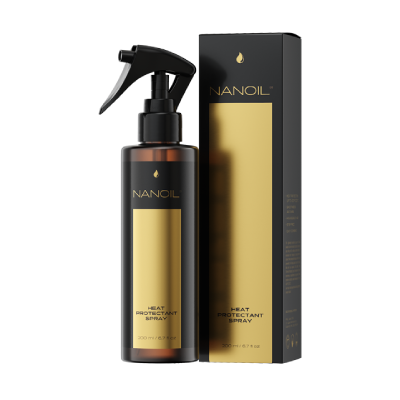 This thermal protector is designed to increase hair's resistance to high temperatures as well as other sources of heat, like for example the scorching sun. Application isn't problematic at all – the product needs to be put on dry or towel dried hair a few seconds before using a heat styling tool. Nanoil Heat Protectant Spray suits all types of hair, which means that you can spray it over fine and delicate, heavy and thick, as well as curly and frizz-prone strands. This lightweight formula closed in an elegant gold-and-black bottle supplies hair with a number of precious substances, such as silk proteins. They promote smoothness to help you create styles effortlessly. It also makes hair resistant to 440-degree/220-degree (Fahrenheit and Celsius respectively) temperatures, improving hair appearance at the same time without reducing the volume of your style. Nanoil Heat Protectant Spray is recommended by professional hair stylists and regular users. It's worth giving a go, especially that this is an affordable product!
Learn more: www.nanoil.us
2. Moroccanoil Protect Spray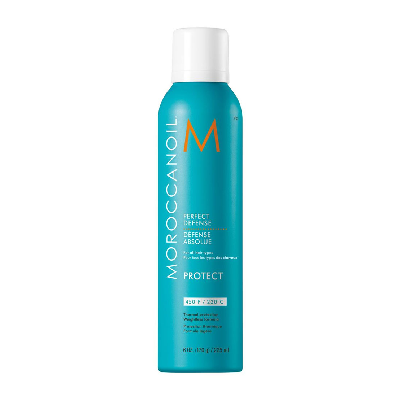 This spray derives its power from provitamin B5 and argan oil. Designed to protect the hair from heat damage, Moroccanoil Protect Spray delivers best results on extremely dry and brittle strands. That's because it focuses on delivering nutrients and moisture, locking them under a sheer protective layer that additionally keeps hair safe from strong wind and other unfavorable weather conditions. Additionally, Moroccanoil Protect Spray increases hair's elasticity, makes it easier to style and combats frizz. It's recommended for those who love using plant oils in their beauty regimen, yet those with heavy and thick hair should be careful when applying the spray – it may weigh the strands down a bit, depriving the style of volume. Despite its high price, this product is worth trying out, especially if hair is in a really bad condition.
3. Z.one Milk_Shake Lifestyling Thermo-Protector Spray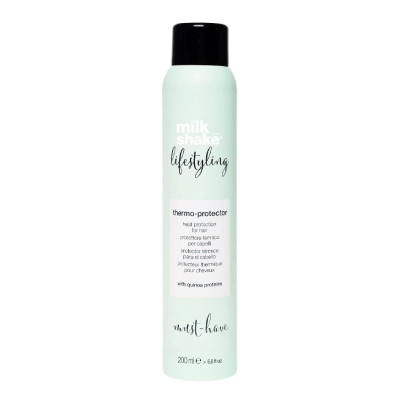 Here's another hate protection spray launched by a popular brand. Its weightless formula keeps hair safe against the heat emitted by all styling tools like a hairdryer, curling rod or a straightener. Z.one Milk_Shake Lifestyling Thermo-Protector Spray embraces the strands with an invisible coating to effectively prevent splitting, breakage and damage. The active ingredients used in this product are pretty unique: quinoa proteins, milk proteins and UV filters. The former is responsible for protecting the hair from the adverse effect of urban pollution. Additionally, they maintain color and boost shine. Milk proteins are in charge of making hair softer and moisturized. They also fill up the cracks that appear on the hair outermost structure. This Lifestyling Thermo-Protector Spray is easy to use and doesn't reduce volume in hair. It's pretty costly, though.
4. Davines Melu Hair Shield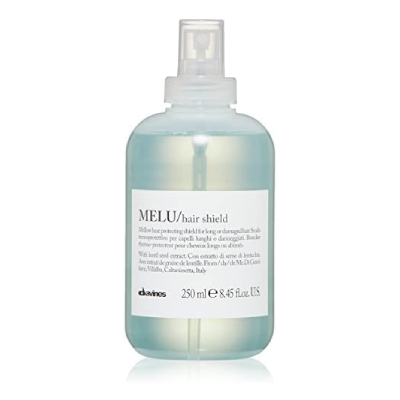 A nutrient-rich heat protectant formulated with rosemary extract and Villalba lentil extract. It's recommended especially for long and damaged strands because this lightweight formula is good at shielding the hair from: heat, urban pollution, toxins and mechanical damage. Davines Melu Hair Shield reverses damage and deals with dehydration by replenishing water to the hair. This effect shows best on the hair that is over-processed due to various in-salon treatments like bleaching or coloring. This unusual formula is one of the main reasons for this product's wide recognition. The price per bottle isn't low but on the other hand you won't run out of it fast.
5. EVO Icon Welder Heat Protection Mist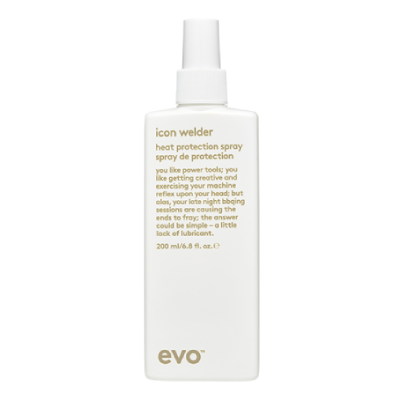 This Australia-origin heat protection spray seems to be one of the best-selling hair care products. One of the reasons for that is the brand's policy towards the planet Earth and people living on it – EVO wants to be perceived as an environmentally friendly brand. Their heat protection mist suits all types of hair, and protects them from UV and the high temperatures emitted by all heat styling tools. Also, this product makes styling easier and extends the hold, helping you enjoy the perfectly-looking blowout for the entire day. EVO Icon Welder Heat Protection Mist leaves hair soft and shiny, as well as resistant to frizz.