Nanoil – the best-selling argan oil for hair and skin
Argan oil is one of the best natural cosmetics. However, to unveil its full potential of caring properties, it should be of the best quality just like Nanoil. This argan oil is most often chosen by consumers. Why? Meet the new favourite of cosmetologists and the entire blogosphere!
---
Argan oil in cosmetics
Argan oil is the best oil for skin, nail, and hair care – it's suitable for all skin and hair types. It's lightweight and easily absorbed but has a huge beauty potential. It's a multi-purpose cosmetic that regenerates, moisturizes, smoothes, reduces wrinkles, improves skin tone, and even helps combat acne! It's believed that argan oil is a must-have in every bathroom cabinet.
Wyświetl ten post na Instagramie
Certified argan oil
For argan oil to unleash its full potential, it should meet several conditions. First of all, it shouldn't be refined or treated at high temperatures as it destroys its valuable ingredients. Therefore, the highest-class argan oil should be cold-pressed, unrefined, and certified.
Nanoil Argan Oil – how does it work?
Nanoil Argan Oil is one of the most frequently chosen natural oils. It's a favourite of consumers who value the highest quality cosmetics. The Nanoil Argan Oil is cold-pressed, unrefined, certified by Ecocert and it's enclosed in an amber glass bottle. Consumers praise the larger bottle size combined with affordable price and elegant packaging, which only confirms its exceptional quality. Nanoil Argan Oil has excellent beauty benefits. It:
Reduces wrinkles and delays skin ageing process.
Nourishes the skin and hair.
Has regenerative properties that stimulate the cell renewal process.
Protects hair and skin from damage and irritation.
Conditions weak nails.
Helps get rid of stretch marks and cellulite.
Smoothes, firms, and improves skin elasticity.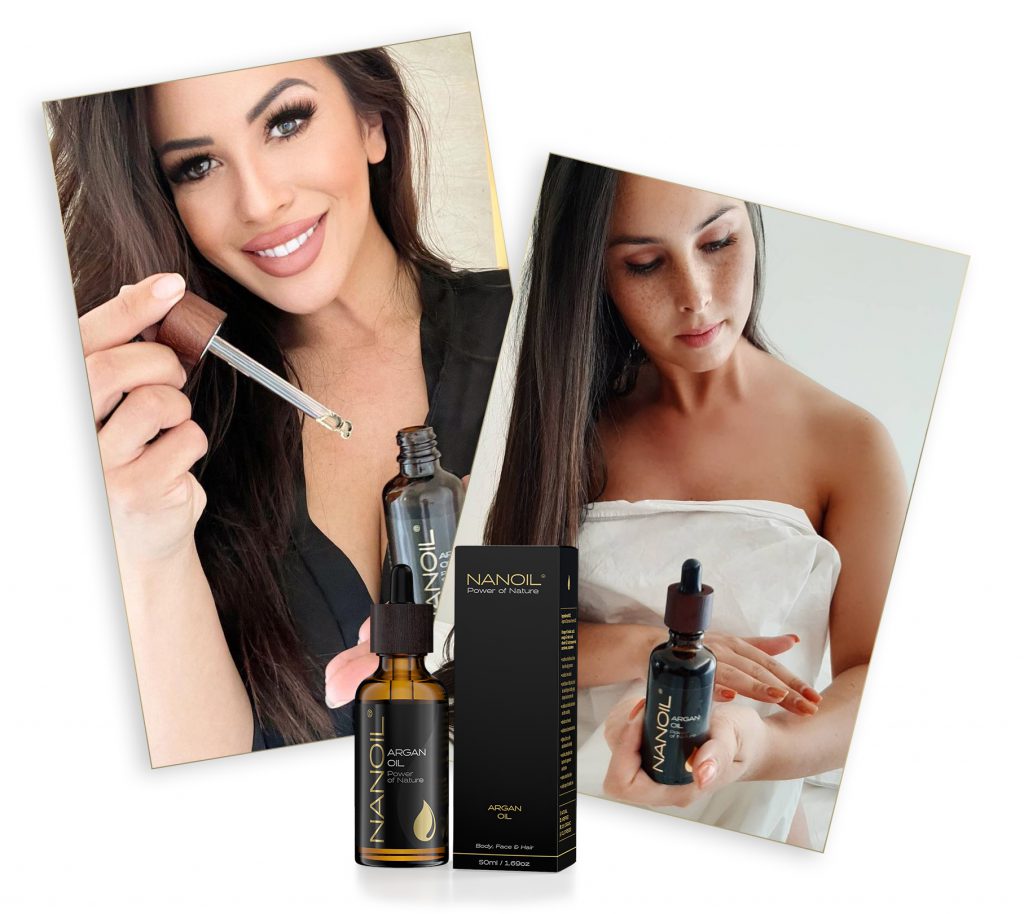 Nanoil Argan Oil – uses
Nanoil argan oil can be used in various ways, and it's suitable for body, face, nails, and hair care. Its uses are practically unlimited, as you can also combine it with other cosmetics (lotions, masks, or hair conditioners), or creates homemade DIY cosmetics.
■ NANOIL – argan oil for hair
It's great for the hair oil treatment for all hair types – it protects from the heat of the hair dryer and harmful UV rays. It strengthens weak hair, boosts shine and resilience, and prevents hair loss.
■ NANOIL – argan oil for the face
It smoothes the skin, reduces wrinkles, but also combats acne and other skin imperfections. Applied as a night serum following the moisturiser, it guarantees beautiful and rested skin in the morning. Nanoil Argan Oil is also suitable for skin care around the eyes – it has a strong anti-wrinkle effect!
■ NANOIL – argan oil for the body
Do you want to nourish your dry skin, firm your body and get rid of cellulite, or prevent stretch marks? Argan oil works perfectly! It's perfect for holidays, as it can soothe sunburn and beautifully enhance the tan.
Learn more about the product: www.nanoil.us.
---