Tired of continuously dry and aging skin? Say goodbye to it and welcome your new look! Maltese Ghasel Body C ensures 24-hour hydration and its honey scent is super relaxing. Get to know its properties!
Ghasel Maltese Honey Body Cream – how does it work?
The moisturizing properties of Maltese honey combined with vitamin B12, shea butter, avocado oil and plant extracts provide a powerful dose of hydration and nourishment to tired skin. The carefully-selected ingredients have softening properties and let your skin regain its suppleness and elasticity.
Maltese Honey Body Cream – benefits
24-hour hydration,
a firm and youthful-looking body,
skin free of cellulite and stretch marks,
reduced irritation,
no redness,
even skin tone.
GHASEL Body Cream – ingredients
Maltese honey – a moisturizing and smoothing ingredient, delivering skin's exceptional radiant look. It has a nourishing and energizing action. Its antibacterial and anti-inflammatory properties soothe irritation, promote skin regeneration and provide 24-hour hydration. It is especially recommended for dry and problematic skin, prone to allergies. It improves suppleness and elasticity.
Vitamin B12 – reduces wrinkles, fine lines and blemishes. Its smoothing properties have a significant effect on skin's condition.
Horse chestnut extract – contains precious mineral salts, flavonoids and vitamins with anti-inflammatory properties that strengthen blood vessels. It reduces puffiness and combats cellulite and stretch marks. Its antioxidant properties neutralize free radicals.
Marshmallow extract – delivers hydration and increases the level of hyaluronic acid in the skin. It contains vitamins B, A, C, D and E. It softens the skin and protects it from dryness and irritation.
Vitamin E – a powerful antioxidant that neutralizes free radicals and oxidative stress. It combats skin aging and loss of suppleness and elasticity. It protects from collagen and elastin loss.
Calendula extract – moisturizes, softens and smoothens the skin. It prevents moisture loss and eliminates bothersome dryness and itching.
Shea butter – smooths, rejuvenates and regenerates the skin. Its firming properties prevent premature aging and smooth fine lines.
Avocado oil – a moisturizer that prevents the skin from dryness. It nourishes and regenerates the skin, thanks to the vitamins A, D, E, B and beta-carotene.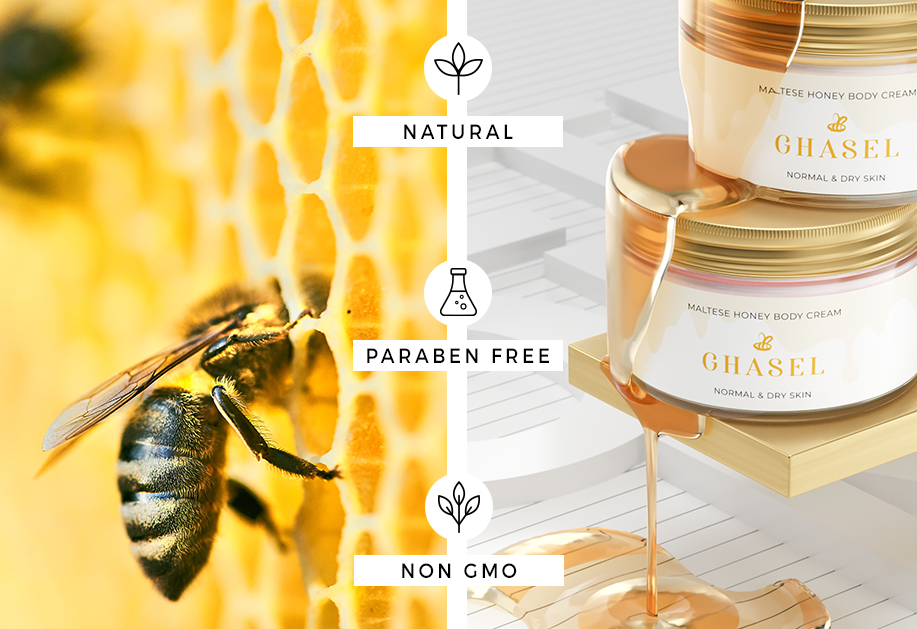 Ghasel Maltese Honey Body Cream is made of carefully-selected ingredients – this moisturizing body cream nourishes and moisturizes even the most demanding skin in a flash!
Try it if you feel your skin needs quick revitalization and no other beauty product meets your needs. Apply a little cream to your hands and massage it in circular motions into your body daily.
Choose a body cream that nourishes dry and rough skin. It's a 100% guarantee of 24-hour hydration! Treat yourself with Maltese Honey Body Cream! Visit official website – ghasel.mt