Do you struggle with weak hair? You tried tons of conditioners and treatments which proved nothing but another failure? Before you decide on a haircut, try a Nanoil hair mask rich in keratin. It's filled with essential protein and enhanced by provitamin B5. See why women have gone crazy about this keratin mask!
What is a Nanoil keratin hair mask?
Simply put, this product makes hair better-looking in a record time. Regular application fixes damaged hair structure. Its repairing effect is really strong. Do you know that keratin makes up hair? This precious substance is in the cortex, cuticle layer and follicles but the body often fails to produce enough of it to keep hair healthy. Keratin is high in amino acids, including cysteine, and others that are essential to hair e.g. alanine, glycine. If the deficiency occurs, your hair automatically looks worse. That is why you need to take action and supply keratin every week, using a good keratin-rich hair mask.

When to reach for a Nanoil keratin hair mask?
Nanoil Keratin Hair Mask is dedicated to hair which is weak and damaged because of:
coloring very often
blow-drying with hot air
straightening with a flat iron
curling with hot tools
unsuitable haircare products
extreme weather conditions
All of the factors cause damage to the hair structure which needs fixing. This mask rescues hair which has lost bounce and volume, got frizzy and static, and is no longer smooth.
At the same time, even healthy hair needs this building block so keratin must be supplied on a regular basis.
Not just keratin: components of Nanoil mask
Keratin hydrolysate works best for hair because it is a lightweight type which easily gets inside the structure, not weighing down the hair. Keratin in a Nanoil mask is highly effective and handles repair remarkably. It guarantees strong, healthy hair which looks fabulous and is easy to style.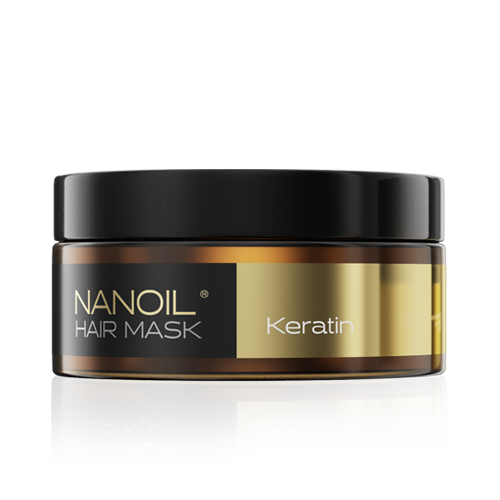 Nanoil formula has been enriched with panthenol: an essential ingredient which gives a lovely shine, as well as enhances repair through stimulating cells and making keratin molecules penetrate the hair easily.
Benefits of keratin hydrolysate in Nanoil mask
It greatly strengthens the hair making it resistant.
It adds volume and thickens the hair.
It guarantees smoothness and shine.
It prevents breakage and frizz.
It repairs hair even when it's totally ruined.
It makes hair resistant to mechanical damage.
Don't wait till your hair gets damaged. Keep it strong by supplying keratin and never worry about its condition.