You hear keratin and you think hair repair – and that's okay because this is exactly what we expect a good keratin hair mask to do. Since our hair is built from this protein, it would be a weird thing to look for other substances that would aid you in reviving damaged hair. That being said, we're totally positive that a good keratin hair mask will soon become one of your top hair products. Okay, but how to find it? No worries, we took care of this and prepared a list of top keratin hair masks that are worth testing, and later using on a regular basis.
Sometimes using a keratin hair mask may not bring you the effects you count on, or if it does, you will probably need to wait a little bit longer than you assumed you would. Why this happens? Because it's hard for hair to get better and look better if it's constantly exposed to damage. Therefore, apart from introducing a keratin-rich hair mask to your beauty routine, you should also make sure that your hair doesn't have to fight the aggressors that contribute to striping it off its strength, shine and volume.
Causes of hair damage
What makes hair weak, dull and thinning? The causes are numerous. You should learn at least the most serious ones to eliminate them and help your hair get better. Here is the list of the bad hair care habits that we advise you to get out of if you want to have long and healthy locks:
applying too much heat to the hair (eg. hair dryer / flat iron / curling wand)
dyeing and bleaching your hair too often
pulling on hair while brushing
rubbing hair vigorously with a rough towel
sleeping with wet hair
lack of adequate care and protection
Qualities you should look for in a keratin hair mask
The best keratin hair mask is the one that gives you the effects you count on achieving. This seems to be obvious, but it turns out that not all keratin hair masks fulfill their role properly. For example, a huge group of these products is formulated with too many ingredients (eg. plant-based or emollients) which not only reduces the amount of keratin that can be used in a product but also impedes producing the desired results. A keratin hair mask you choose must offer you a deep hair treatment that makes your strands repaired and healthy. That being said, such hair products should be made from just a few ingredients, with keratin playing the main role.
Best keratin hair mask. What benefits does it offer?
Keratin hair repair isn't a myth! Best keratin hair masks are able to visibly improve the appearance of hair by reversing damage and smoothing out the cuticles. Since keratin is able to repair damage, this protein makes hair stronger and increases its resistance. What are the benefits of the best keratin hair mask? Such product must be able to:
improve the appearance of hair, leaving it better-looking
smooth out hair cuticles
make hair resistant to damage and external aggressors
leave hair softer and sleek
make hair pleasant to the touch
leave hair fuller-looking (no weighing down)
Best keratin-rich hair masks. Top 5
1. NANOIL KERATIN HAIR MASK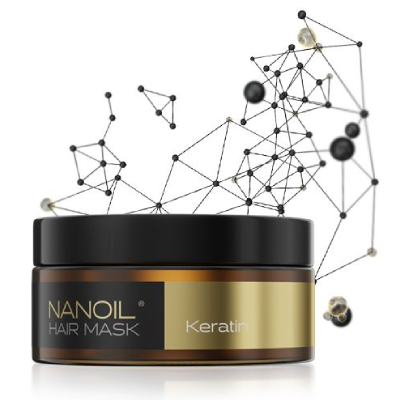 Unbeatable! Perfectly suited to repair damaged hair, as well as preventing healthy hair from getting weaker. Reportedly, Nanoil Keratin Hair Mask is the most favorite hair product by consumers that is thoroughly recommended by professionals. Its secret is the composition that was diligently developed for full hair repair. To help you achieve this beauty goal, this product is formulated with hydrolyzed keratin and panthenol to create a weightless hair compress for health and strength boost. With Nanoil you don't need to wait long to see the improvement in the way your hair looks. Since the very first time applied, Nanoil Keratin Hair Mask makes your hair easier to detangle, glossy and resistant to frizz. When applied regularly, the keratin hair mask leaves hair fuller-looking and resilient. Nanoil contains the biggest amount of keratin and it doesn't even cost a lot! To enjoy beautiful, healthy and shiny hair, you need to apply Nanoil Keratin Hair Mask to freshly washed hair and remove it with water after 15 minutes.
PLUSES:
provides deep hair repair
visibly and quickly improves the appearance of hair
strengthens, protects and locks water inside the hair
is formulated with well-selected ingredients
attractive price
2. GLOBAL KERATIN DEEP CONDITIONER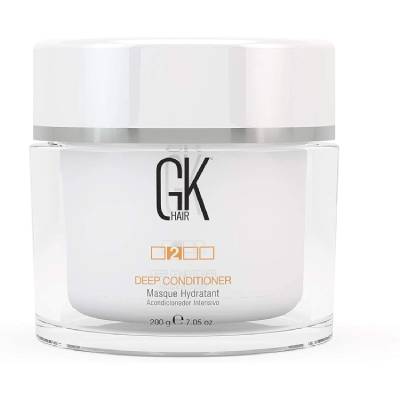 Keratin hair mask from Global Keratin was created to nourish and smooth out hair. It's also recommended for strengthening over-processed hair that was damaged due to color-treatment, bleaching and perm. Sadly, its high price doesn't make it a product that everyone can easily afford. The formula includes Juvenix – a developed in a laboratory blend of ingredients. This mysteriously-sounding word is the name given to a unique combination of vitamins and peptides that replenish hair with nutrients and moisture. Obviously, Global Keratin also contains keratin that is responsible for repairing hair and boosting its strength. Additionally, this product is enriched with plant extracts. Since the list of ingredients isn't as short and simple like it's in the product mentioned above, the effects delivered by keratin added to Global Keratin Deep Conditioner aren't as strong.
PLUSES:
makes hair stronger
boosts shine and improves resilience
locks water inside the hair
lasts long
3. KEUNE CARE KERATIN SMOOTH MASK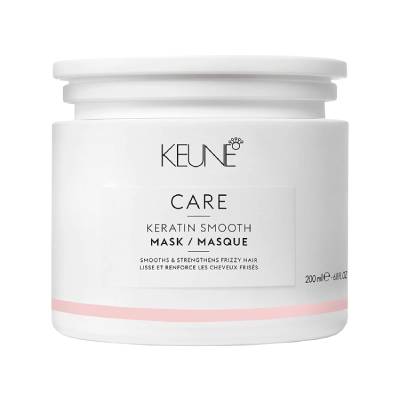 This is currently one of the costliest hair masks that you can find. Available in a fairly big size, Keune hair mask should last you long, unless it turns out that it doesn't work well on your hair, then you'll probably give it away to one of your friends. This product is recommended for dry and coarse hair because it's main task is to smooth the cuticles and combat dryness. This means that Keune Care Keratin Smooth Mask is perfect for unmanageable hair that is stiff and doesn't hold a curl, as well as for the strands that are extremely dehydrated. Since this product's texture is rather thick, it may weigh down delicate and fine hair. When it comes to the ingredients, this hair mask is formulated with keratin, vitamin B5, shea butter and an unique blend called Quat, supposed to protect the hair from damage caused by heat styling.
PLUSES:
unique deeply nourishing blend of ingredients
perfectly suited to extremely dehydrated and damaged hair
comes in a big size
smooths out hair cuticles
4. KÉRASTASE RÉSISTANCE MASQUE FORCE ARCHITECTE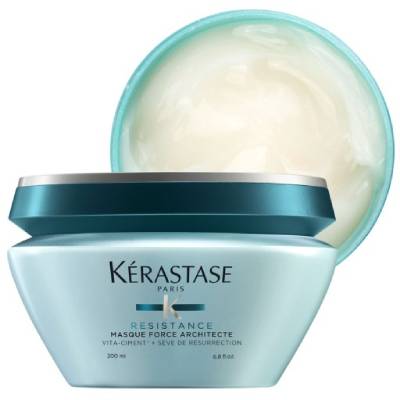 This Kerastase hair mask will be perfect for you if you're looking for a product that will help you revive extremely damaged, frazzled, brittle and coarse strands. This keratin hair mask is also supposed to help repair over-processed hair. When it comes to the ingredients used to compose Kerastase Resistance Masque Force Architecte, keratin is teamed here with ceramides that are responsible for filling in the gaps and fixing the keratin bonds in the hair. This makes it quite a unique hair mask. Sadly, its price may me off-putting for some women.
PLUSES:
visibly repairs hair
has an interesting list of ingredients
the effects are created pretty fast
5. PHYTO PHYTOKÉRATINE EXTRÊME EXCEPTIONAL MASK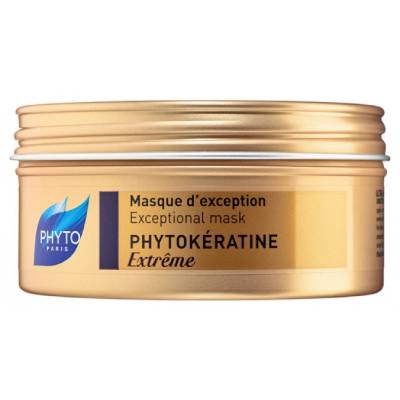 Phytokeratine is one of the most expensive hair masks included in this ranking. Despite being rich in ingredients, the amount of keratin used in this product could have been bigger. Still, this product is able to deliver good effects. Phyto Phytokeratine Extreme Exceptional Mask works for lifeless, dull, dry and damaged hair really well. Apart from plant-based keratin, this product also contains baobab oil, sapote oil and shea butter. Since its texture is pretty dense, it shouldn't be applied to fine hair.
PLUSES:
contains plant-based keratin
enriched with 8 amino acids
perfect for dull and dry hair