People are continuously becoming more aware of the importance of ecology. Every aspect of our lives, including daily skin care can be more environmentally friendly. When choosing "bio" or "eco" cosmetics, we reach not only for natural ingredients but also for biodegradable packaging, coming from proven sources without animal testing. Consumers from around the world already know that nature holds extraordinary power and Nanoil oils only confirm it. Their iconic castor oil has gained thousands of fans of natural care.
How to recognize a good ECO cosmetic? Let's take a look at Nanoil Castor Oil. It is a 100% natural product with pure ingredients (INCI: Ricinus Communis Seed Oil). Its short ingredients list contains only… 1 substance – castor seed oil. It's a cold-pressed and unrefined oil that provides many precious active ingredients. It doesn't contain any artificial additives, perfume, or silicones. By choosing Nanoil Castor Oil you can be sure that you are getting the highest quality oil, certified by Ecocert – issued only to organic cosmetics.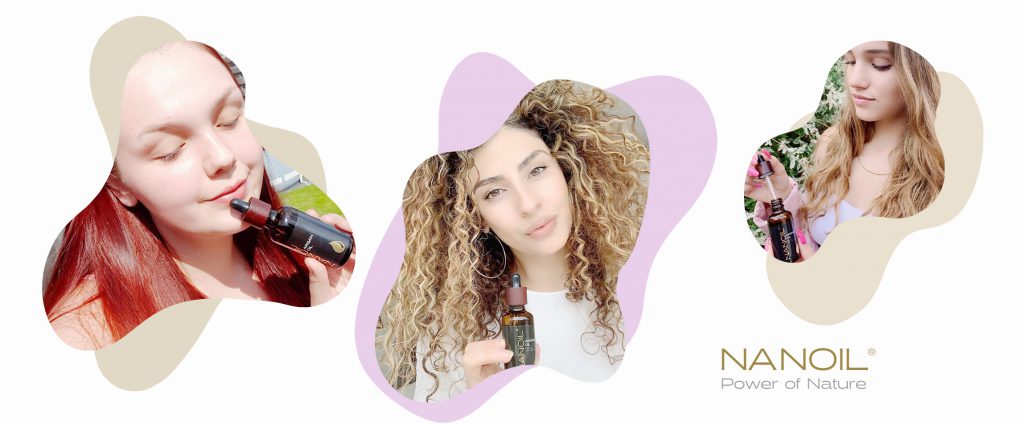 Nanoil Castor Oil – ingredients and benefits
The largest percentage of Nanoil Castor Oil is made of a valuable fatty ricinoleic acid, responsible for rebuilding, moisturizing, and protecting the skin. In addition, the oil also contains glycerides of palmitic, stearic, and oleic acids. The anti-inflammatory and antibacterial properties of the oil can help cleanse the skin deeply, and effectively remove dead skin cells, as well as get rid of any blemishes, discolourations, and clogged pores.
Castor oil is a well-known humectant that can soften even extremely dry skin and hair. It works especially well in skin care of mature, dry, and sensitive skin, but it is also a great choice for oily, and combination skin. Paradoxically, applying castor oil to oily skin helps regulate the work of the sebaceous glands, which produce excessive sebum. As a result, it can minimise the unattractive greasy shine and provide skin with a radiant tone and a natural glow. Vitamins A and E it contains can stimulate skin cells to produce collagen and elastin, responsible for skin elasticity, density, and firmness. The oil helps reduce redness and minimises the appearance of blemishes. Castor oil also contains substances with antioxidant properties, which contribute to slowing down the skin ageing process, resulting in healthy skin for longer.
Nanoil Castor Oil isn't only a great remedy for dry skin and damaged hair, but also works as a great alternative to brow, lash, and nail serum. Regular application of the oil – using your fingertips or a brush – can help to restore the proper level of hydration in your hair. The vitamins contained in the oil strengthen brows and lashes and gradually stimulate their growth.
This versatile cosmetic is a must-have for every beauty maniac who values simple, organic ingredients, vegan formulas, and eco-friendly packaging. A glass bottle with a handy pipette allows you to measure precisely the amount of oil you need to prevent any waste! Just a few drops are enough to quickly nourish the skin in need of hydration. The thick but light and pleasant formula distinguishes Nanoil Castor Oil from other castor oils.
How to use Nanoil Castor Oil?
Use it in combination with your favourite cosmetics: masks, creams, conditioners, oil-based makeup removers, etc.
Apply it directly to the face, body, hair, and nails.
Apply it to your dry ends.
As a nourishing serum stimulating the growth of strong and dark brows and lashes.
As an oil for body and face massage.
As a scalp treatment to stimulate microcirculation and hair follicles to grow.
Apply it topically to blemishes.
As a makeup remover.
For more information about Nanoil products, go to the website nanoil.us