There is about 150 thousand hair on your head! How can you take care of all of them? It is possible if you only reach for concentrated yet light and efficient product. Nanoil hair oils are cosmetics of this kind, match hair porosity and are entirely natural!
Even though we do not realise it, per square centimetre of our skin, there are from 150 to even 500 dark (or 750 fair) hair. This polarity depends on the hair thickness and density. For all you know you can have more hair than the woman sitting next to you. Your hair can be thicker if for example is darker. Blond hair by nature is finer, weaker and require focused care. Although, not only this one.
Do you know how you should take care of your hair?
The seemingly simple question turns out to be more difficult when you try to answer it. Therefore, how should you take care of your hair? Most of all, you should start! Almost a half of women admit that they practically do not pay attention to the hair care. The shampoo is the very base, and it is on occasion accompanied by randomly chosen conditioner.
Do not make the same mistake! Try hair oil treatment that is believed to be the best hair care method. It is natural, affordable and focuses on the given problem.
Accordingly matched hair oils effectively improve scalp condition, moisturise and smoother hair on its entire length, provide deep regeneration and strengthening, and protection with particular care of sensitive ends. The rule is simple – match oil with hair porosity, use it on a regular basis and enjoy beautiful hair. Take control over unruly and frizzy hair. Speed up hair growth or limit hair loss, all according to your needs. What else do you need? Just one cosmetic!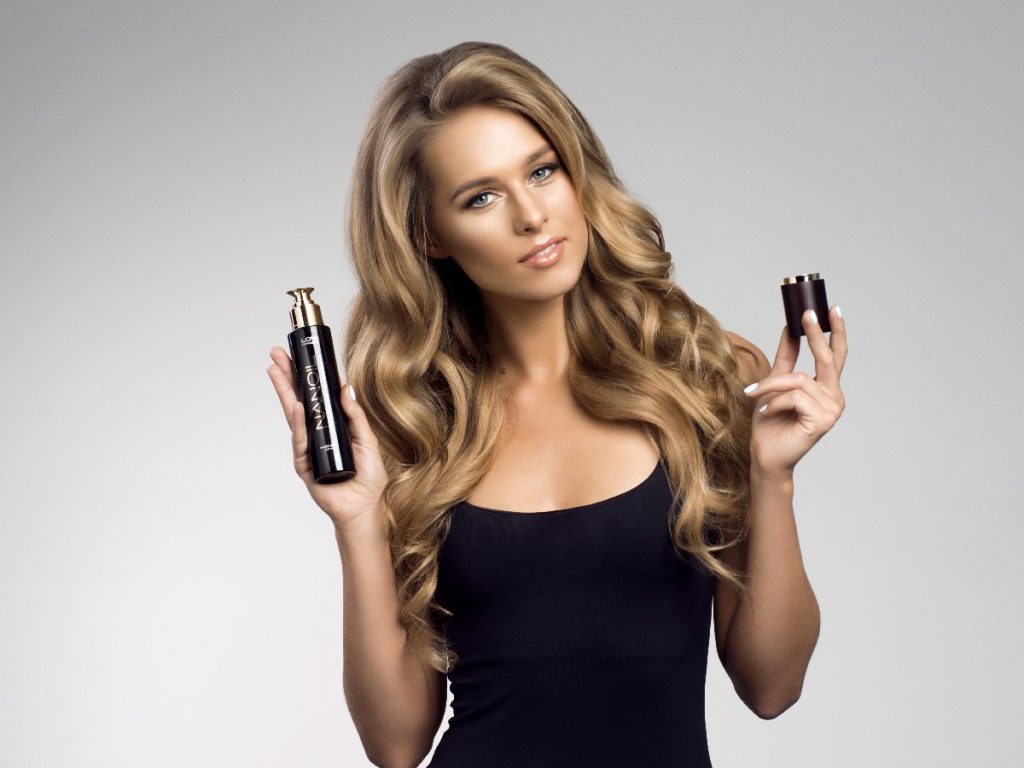 There are at least three reasons why you should try one of Nanoil hair oils. These differ with composition, properties and dedication, and in spite of it have plenty in common. What makes Nanoil hair oils different from its competition?
Match three hair types, so they do not focus on just one problem, but rather help you deal with all the issues of the given hair porosity.
Contain exclusively natural and vegetable oils, which particles match hair structure, and their action is enhanced with precious additional ingredients.
Versatile use allows wet and dry, before and after, overnight and through the day application, depending on the needs.
Action not only on the superficial level, but also on the inside structures, on the entire hair length, and on the scalp that is a base for healthy-looking hair.
Instead of being disappointed with another beautiful hair promise made by manufacturers who weight your hair down with silicones, try the power of natural oils. Free of parabens or alcohols. Does Nanoil contain only oils? No, but these are the base for the product. Besides oils, Nanoil has in its composition vitamins, natural substances preventing hair loss and speeding up new hair growth – silk, panthenol, lanolin, keratin, etc.
Three times YES to the three Nanoil hair oils
There are three different hair types, based on the porosity. Without focusing on the colour, length or texture, there is low, medium and high porosity of hair. Porosity is a condition of hair coating made with several layers of cuticles. However, these can be sealed and protect well the hair shaft or be open, what sadly can speed up water and precious trace elements loss. The superior goal is always to seal external hair structures.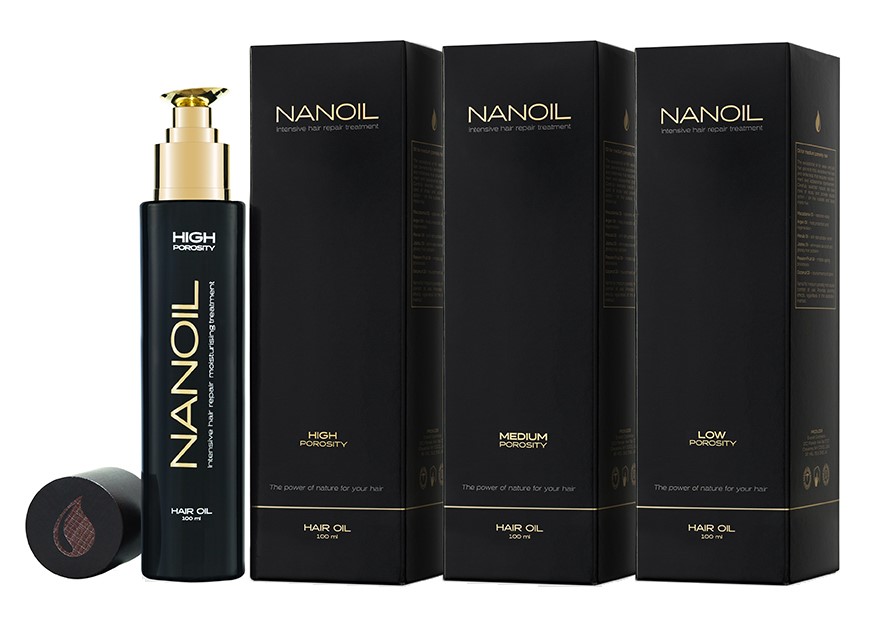 Nanoil introduces three formulas, and each of them is dedicated to different hair type. The compositions were developed with greatest focus and detail, so that only substances with a beneficial impact on the given hair type, able to solve its problems, were contained within. You can choose the one perfectly matching your needs!
For damaged hair choose Nanoil for high porosity hair. It consists of argan oil (regenerates and seals hair cuticles); evening primrose oil (takes care of scalp); cottonseed oil (hair ends protection); passion fruit oil (inhibits greasy roots and provides elasticity); almond oil (moisturises, nourishes and strengthens); avocado oil (moisturises, limits frizzy hair and ensures radiant gloss) and additional substances (panthenol, vitamin E, lanolin, silk, keratin, baicapil, kerastim, UV filter). Effects? Healthy, strong, smooth and shiny hair.
For a hair difficult to style and regularly subjected to the sun or high temperatures best solution is Nanoil for low porosity hair. It contains shea butter (prevents frizzy hair); babassu oil (makes combing easier); cupuacu butter (makes hair elastic and hydrated); argan oil (heat protection); Siberian pine oil (eliminates dandruff and prevents hair loss); coconut oil (protects hair ends and nourishes); castor oil (speeds up hair growth and ensures opulent gloss); passion fruit oil (vitality restoration); Monoi oil (protection against unfavourable factors) and set of additional ingredients (panthenol, kerastim, baicapil, UV filter, vitamins A and E). Effects? Full of volume, easy to style and continuously protected hair.
For weaken and problematic hair, the most common for women all over the world, great will be Nanoil for medium porosity hair. There is argan oil (for heat protection); jojoba oil (prevents greasy roots and dandruff); coconut oil (protects hair ends and smoothers), passion fruit oil (restores elasticity and limits frizzy hair); Marula oil (moisturises and protects); macadamia oil (nourishes and takes care of scalp) and several additional ingredients to enhance the action (UV filter, vitamins A and E, silk, baicapil, kerastim). Effects? Strong, elastic, soft and full of opulent gloss hair.