Broken capillaries, prickling sensation and redness don't have to be your problem any longer! This moody couperose skin of yours can look good, too. Just use the right face serum. Nanoil Anti-Redness Serum is the answer to all common symptoms and concerns of reactive skin, being at the same time an amazing rejuvenating product able to nourish a tired-looking, dull complexion. Interested?
Is my skin couperose?
It turns out that ruddy cheeks aren't always the sign of good health. It's not when the capillaries show through the skin. Sadly, reddened cheeks are just one out of the whole bunch of concerns typical of couperose skin. The most common problems include persistent facial redness, burning sensation, skin that feels tight, itchiness and broken capillaries.
Causes of couperose skin
Although skin type is mostly genetic, there are some conditions that contribute to couperose skin. What are they? Hormones, allergies, cardiovascular disorders and numerous skin diseases.
The factors increasing the risk of and making these common skin concerns even more serious and troublesome are: chlorinated and/or hard water, certain medications, sun exposure, A/C, artificial sources of hot temperature (sauna, solarium, hair dryer), physical exercises, hot beverages, spicy foods, stress, neurosis, alcohol, cigarettes, bad weather conditions (strong wind, cold, high humidity) and hormonal contraception.
Nanoil Anti-Redness Serum: Perfect to treat redness and broken capillaries
Who said that couperose-prone skin can't be flawless? It can look good provided that you treat it with the right skincare products and use the right treatments that constrict and strengthen the walls of blood vessels, as well as bring relief to irritated skin.
To get a better-looking complexion, reach for Nanoil Anti-Redness Serum – simply the best solution for all couperose skin problems. Lightweight and gentle to the skin, the serum handles redness, irritation and inflammation. Able to work from within, Nanoil Anti-Redness fortifies the walls of capillaries, thus preventing spider veins. On top of that, it increases skin's resistance to future irritation.
Finest naturally-derived ingredients to soothe the skin
Plant extracts and naturally-derived ingredients are what made Nanoil Anti-Redness Face Serum. Free from dodgy substances such as allergens, parabens and irritants, this product proves itself perfect for reactive skin. Interestingly, the serum's formula not only brings relief and handles couperose skin concerns but it also nourishes, repairs, rejuvenates and moisturizes.
What does Nanoil owe its power to? Mostly to linden tree extract, cypress cone extract and chestnut bark extract, all three known for reducing redness, banishing irritation and eliminating the problem of broken capillaries. These skin repairing and soothing extracts are combined with three skin's appearance improving ingredients of natural origin such as:
an antioxidant extracted from Boerhavia Diffusa root that reduces wrinkles and keeps skin youthful-looking.
plant-derived glycol known as propanediol is responsible for maintaining hydration by locking water inside the skin.
and lecithin that nourishes and softens skin by fixing the lipid barrier of skin.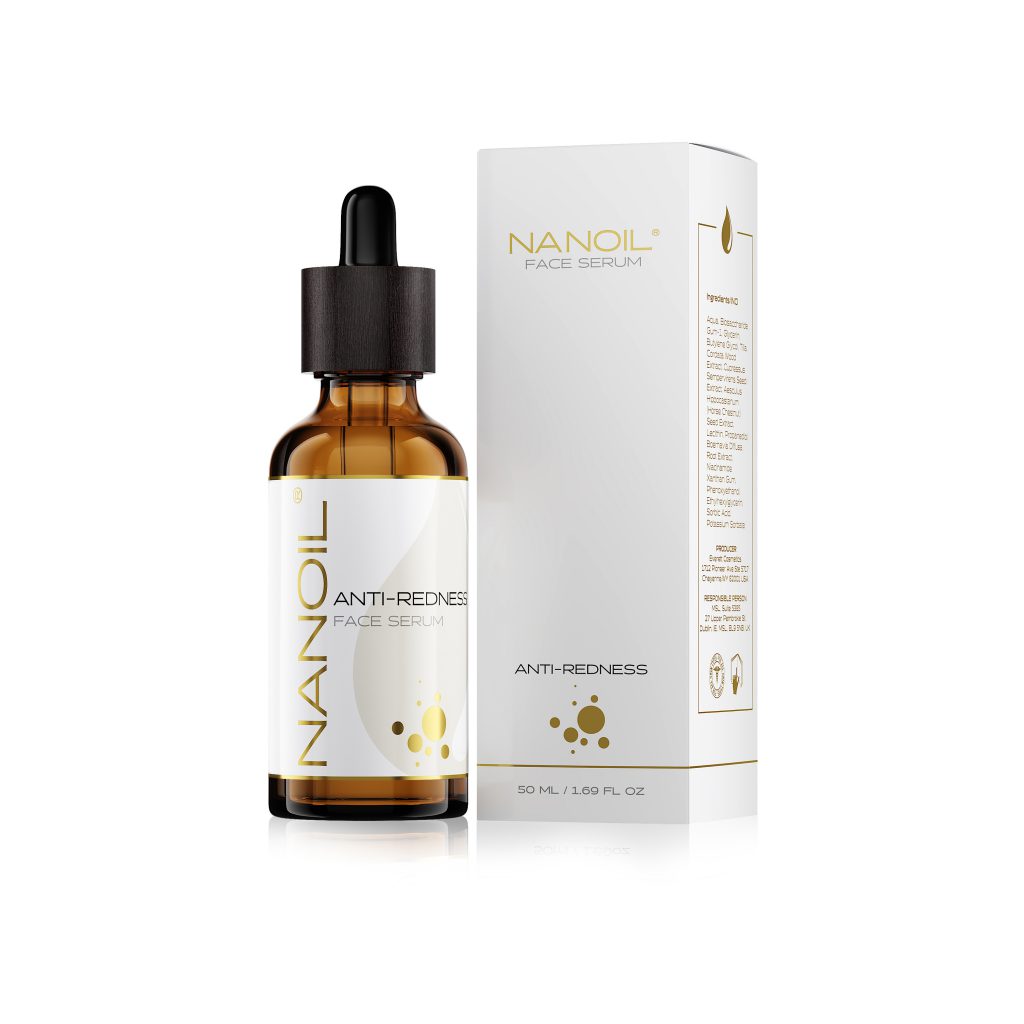 Nanoil Anti-Redness Face Serum – pluses
Good value
Quick effects
No spider veins
No redness
No irritation
Big size (1.69 fl. oz. / 50 ml)
Convenient purchase on nanoil.us
Non-comedogenic
Fast-absorbing
Positive reviews